Talloires Organisation: meeting rooms for hire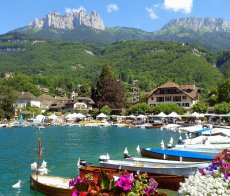 Bring together the prestigious setting of Lake Annecy and the professionalism of our teams.
You will benefit from a personalised service, tailor-made to your requirements and with continuous monitoring to ensure your meetings and seminars are a success.
Meeting rooms
The "La Savoyarde" business centre welcomes you for all your events.
Situated on the shores of Lake Annecy in a 19th century building, La Savoyarde has four meeting rooms including a committee room of 120m².
The room layouts are completely adjustable, and the rooms are light and airy thanks to the many windows with views over the lake.
Resources at your disposition : Wall-mounted flat screen, flip-chart, sound system, wifi.
We can also provide, on request: projector, personalised signage, photocopier, telephone...
Contact
Tel : +33 (0)4 50 32 26 60
Detailed estimate : samett.talloires@gmail.com
Accommodation / dining options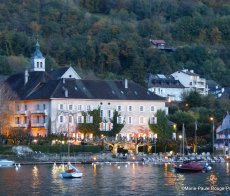 Talloires offers a wide range of 3- and 4-star hotels around Lake Annecy.
3-star hotels: 112 bedrooms
4-star hotels: 98 bedrooms
Talloires, home to exceptional cuisine, offers you the chance to relax over delicious, traditionally-cooked dishes.
There is a wide selection of high-quality cuisine to choose from, from celebratory meals of speciality Savoyarde mountain dishes to a simple fish dish served in an open-air café on the shores of Lake Annecy.